Technical Data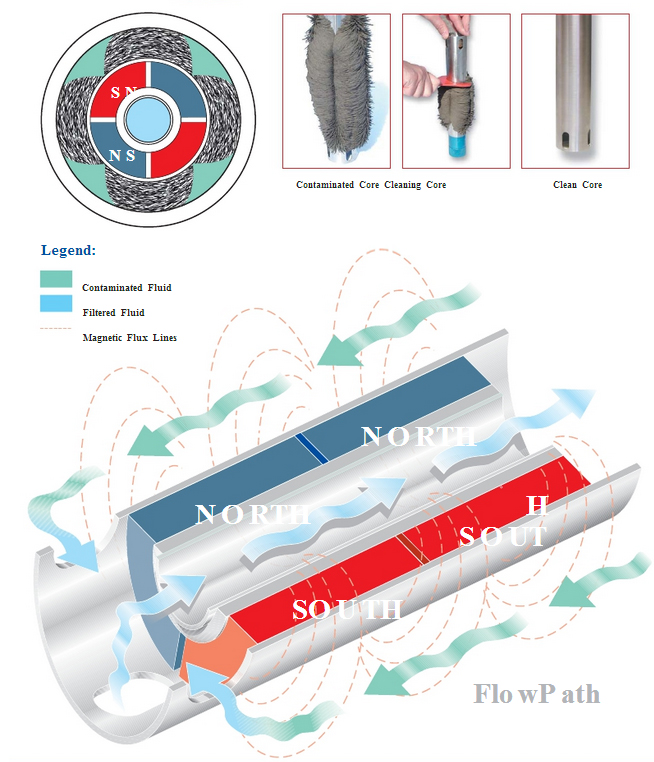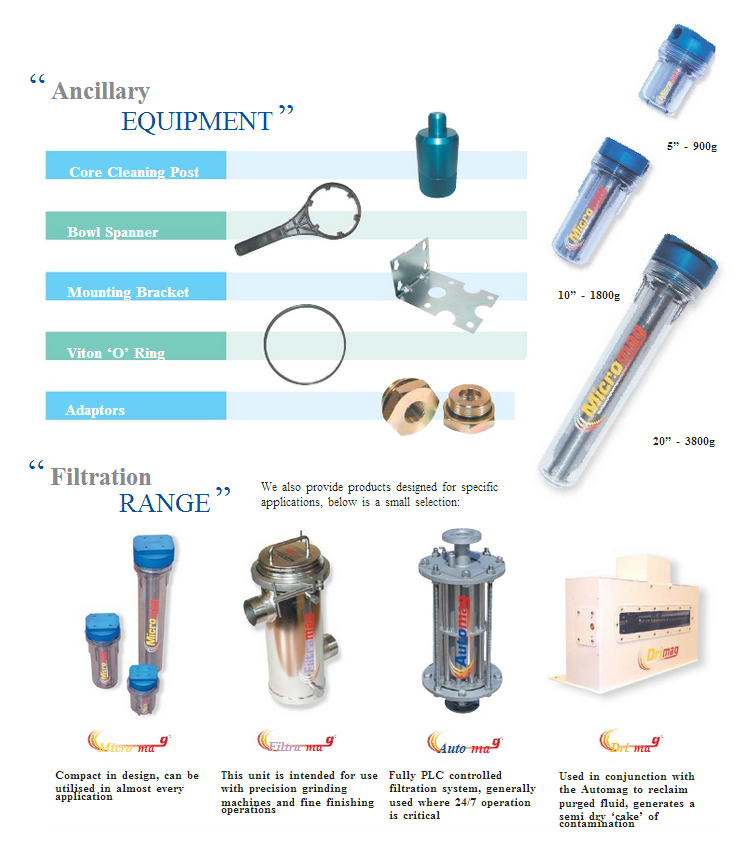 Technical Information
The ADVANTAGE
Micromag™ has numerous advantages, these can be exploited by every industry:-
Sub micron filtration efficiency, if the particle is magnetic the Micromag™ will remove it.
No loss of fluid due to changing oil sodden cartridges.
No pressure drop, even when fully loaded with contamination utilising the patent pending magnetic
circuit design.
No consumables required, ever! Once purchased the unit does not require ongoing spend, resulting in
lower operating costs.
No maintenance required, only operator intervention to clean.
Reduced environmental impact, all you are left with is metallic material – no need to dispose of dirty
cartridges!
Capable of removing abrasives & non-magnetic material by means of heterocoagulation.
Reduced downtime, increased productivity.
Visual inspection of fluid being filtered.
The PROCESS
Contaminated fluid enters the inlet port, where it is equally dispersed via the unique tapered radial flow channels. It is these channels that slow the fluid down. Fluid then passes down the outside of the centrally mounted 'Rare Earth' magnetic core. It is here where particle capture is achieved resulting in excellent filtration efficiency. As more particles are attracted, the magnetic flux circuit geometry generates a controlled build up of contamination. It is this flux circuit that ensures that the filter can never block, irrespective of contamination loading allowing fluid to flow freely down the remaining open channels. The filtered fluid then flows through return slots that are located in the lower section of the magnetic core and up through the centre where fluid exits via the outlet port.
Industrial SECTORS Any industry that uses fluids can benefit from the installation of the Micromag™ filter system, the following are just a small selection:-
Machine Tools Marine
Manufacturing Oil
Automotive Transport
Construction Power Generation
Aerospace Water
Defence Yellow & White Goods
Recycling Mining
Hydraulic
Application
Area of APPLICATION
Grinding, Honing & Lapping Machines
Manual & CNC Machinery
Fine Finishing Operations
 Wire & EDM Processes
Laser Cutting Operations
 Injection Moulding Cooling & Heating Systems
 Industrial Part Washing
Transmission
Engines
Post Drill Head Operations
Saw Sharpening
Pump Protection
Pre filtration
Quenching Operations
Domestic & Industrial
Heating Systems
Press Brake Lubricant
Filtration CAPACITY
Micromag™ may be compact in size but has massive holding capacity. No filter can match its capability with th units holding 900g, 1800g & 3800g of contamination respectively, resulting in less downtime and increased production!
Cleaning
Using the supplied cleaning tool, a fully contaminated core can be cleaned in under 30 seconds! Leaving you with only metallic particles, which can be easily disposed of, no dirty cartridges!