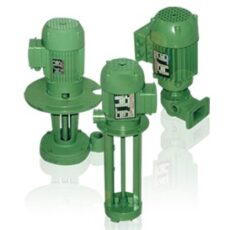 Capacities of up to 1,200 l/ min, head up to 10 bar.
The body can be constructed of steel, cast iron, aluminium, brass or plastic for industrial applications and mainly for use in cooling, lubrication, washing and air-conditioning plants and anywhere where water-oil emulsions and pure cutting oils are needed, with flow rates reaching 1,200 litres/min. and head of up to 100 metres.
In particular, stem pumps are designed from the point of view of reliability, reasonable running costs, user safety and total elimination of risks of the pumped liquids overflowing or leaking.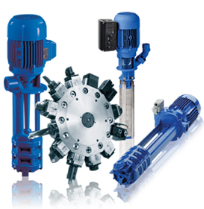 Can deliver from 5 to 1800 litres per minute and pressures up to 70 bar.
They can include as an option the patented de-aeration system to allow easy suction of heavily aerated oils, and also the new chopper pump which handles and breaks up bundles of swarf.
The pump design can handle a wide variety of machine tool fluids, including liquids containing solids in suspension. Brinkmann coolant pumps are of modular construction, normally made of heavy cast iron, but can be made in bronze, plastic, or stainless steel allowing a limitless range of solutions.
Call the office for more information on the model and type of pump that is suitable for you.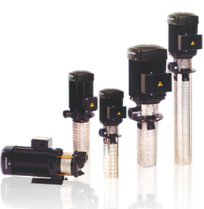 A-Ryung Machinery Company has specialised in the manufacture of oil and coolant pumps since 1976 and pride themselves on supplying the best quality and variety of product at a reasonable price on time. A-Ryung constantly researches and develops their pumps, ensuring top performance and reliability. Pumps and Equipment (Warwick) Limited are A-Ryung's sole United Kingdom distributor. Please click the links on the left to view the product ranges available.