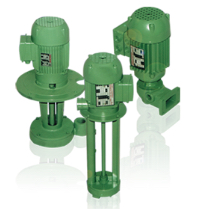 Sacemi coolant pumps. Capacities of up to 1,200 l/ min, head up to 10 bar.
Pumps & Equipment (Warwick) Limited offer wide range of coolant pumps with many being available from stock. Specification sheets for most of our product ranges can either be viewed, downloaded, printed or forwarded. We supply a wide range of low / medium pressure coolant pumps.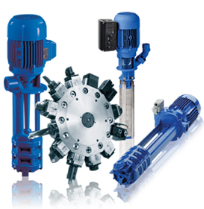 Can deliver from 5 to 1800 litres per minute and pressures up to 70 bar.
They can include as an option the patented de-aeration system to allow easy suction of heavily aerated oils, and also the new chopper pump which handles and breaks up bundles of swarf.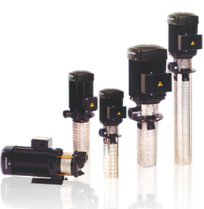 A-Ryung Machinery Company has specialised in the manufacture of oil and coolant pumps since 1976 and pride themselves on supplying the best quality and variety of product at a reasonable price on time.
A-Ryung constantly researches and develops their pumps, ensuring top performance and reliability.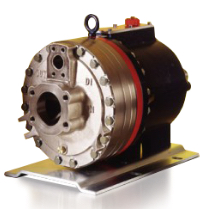 Selection of the pump is based on flow requirements, followed by pressure requirement.
The pump initially must be considered as a glandless, sealess pump which is capable of pumping a wide variety of products and handling solids in suspension. In addition to this, it is also capable of developing a wide range of pressure, adding to its uniqueness and versatility, as a solids-handling high pressure pump.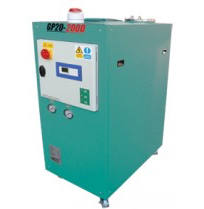 Pumps & Equipment have been designing High Pressure Coolant systems (HPC) for 15 years, in that time the requirement for HPC has changed dramatically.
Most machine tools are now fitted with HPC or can take it as an option and tooling companies are now designing purpose made tools to deliver.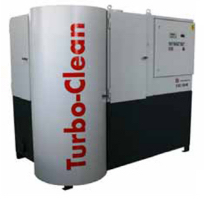 Turbo cleaning systems for industrial fluids require no auxiliary filter material, therefore having the benefit of no extra disposal costs.
Suitable for all filtration problems that need to be solved in the mechanical engineering sector, with only a few exceptions. Very good filtering qualities can be achieved by selecting a suitable size and adapting the flow rate to the task in hand.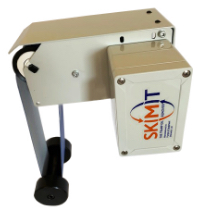 Providing the coolant contamination solution for your CNC machine tools.
We know just how disastrous tramp oil can be to your coolant, directly impacting fluid quality and leading to problems with your machine tools. Our bespoke products offer you a direct solution to your production problems, helping save you time and money.